Swara Agro Impex is one of the leading Coriander Seeds Suppliers in India, We are exporting coriander seed across the Globe. Coriander Seed is one of the Famous spices used in Indian food. Coriander is indeed an integral part of Indian Cuisine. Coriander seeds are known for their medicinal properties, fragrance and taste. Being one of the common spices used in almost every kitchen and it has a huge demand.Swara Agro Impex, being one of the best Coriander Seed Supplier In Gujarat, brings pure and quality Indian spices for you. We have done their procurement at our own farm and facility, and we guarantee its quality won't get sacrificed at any stage.
Nutrition Value: (per 100 gram) Sourced USDA National Nutrient Data Base
Nutrient
Unit
Value per 100.0g
Proximates
Water
g
8.86
Energy
kcal
298
Protein
g
12.37
Total lipid (fat)
g
17.77
Carbohydrate, by difference
g
54.99
Fiber, total dietary
g
41.9
Minerals
Calcium, Ca
mg
709
Iron, Fe
mg
16.32
Magnesium, Mg
mg
330
Phosphorus, P
mg
409
Potassium, K
mg
1267
Sodium, Na
mg
35
Zinc, Zn
mg
4.70
Vitamins
Vitamin C, total ascorbic acid
mg
21.0
Thiamin
mg
0.239
Riboflavin
mg
0.290
Niacin
mg
2.130
Folate, DFE
mcg_DFE
0
Vitamin B-12
µg
0.00
Vitamin A, RAE
mcg_RAE
0
Vitamin A, IU
IU
0
Vitamin D (D2 + D3)
µg
0.0
Vitamin D
IU
0
Lipids
Fatty acids, total saturated
g
0.990
Fatty acids, total monounsaturated
g
13.580
Fatty acids, total polyunsaturated
g
1.750
Cholesterol
mg
0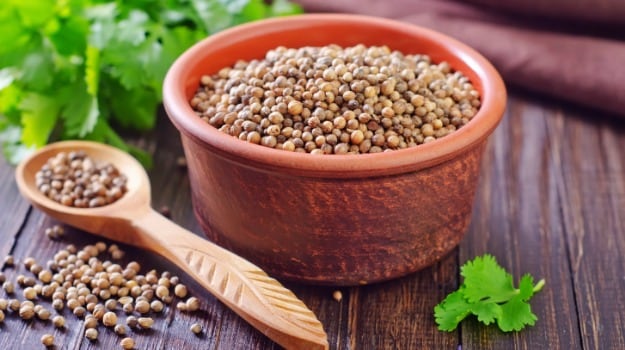 Benefits Of Coriander Seeds
1. Coriander lowers bad cholesterol (LDL) and increases the levels of good cholesterol (HDL).
2. A very good food for digestive system, coriander promotes liver functions and bowel movements.
3. Coriander is good for diabetes patients. It can stimulate the insulin secretion and lower the blood sugar levels.
4. Vitamin K in it is good for the treatment of Alzheimer's disease.
5. The fat soluble vitamin and antioxidant- Vitamin A, protects from lung and cavity cancers.
6. Coriander contains anti-inflammatory properties. This is why it is good against inflammatory diseases such as arthritis.
7. Coriander's anti-septic properties help to cure mouth ulcer.
8. Coriander is good for the eyes. Antioxidants in coriander prevent eye diseases. It's a good remedy in the treatment of conjunctivitis.
9. Coriander seeds are especially good for the menstrual flow.
10. It's a very good herb to promote the nervous system. It can stimulate the memory.