Jaggery is an unrefined sugar made from sugar cane and frequently used in both savory and sweet dishes prepared throughout southwest Asia — particularly in India. which produces about 60 percent of the world's jaggery, is the largest global consumer of jaggery. In Hindi, jaggery is known as gur.
These products include:
Gur: India.
Panela: Colombia.
Piloncillo: Mexico.
Tapa dulce: Costa Rica.
Namtan tanode: Thailand.
Gula Melaka: Malaysia.
Kokuto: Japan.
About 70% of the world's jaggery production takes place in India, where it is commonly called "gur."
It's most often made with sugar cane. However, jaggery made from date palm is also common in several countries .
How is It Made?
Jaggery is made using traditional methods of pressing and distilling palm or cane juice. This is a 3-step process .
Extraction: The canes or palms are pressed to extract the sweet juice or sap.
Clarification: The juice is allowed to stand in large containers so that any sediment settles to the bottom. It is then strained to produce a clear liquid.
Concentration: The juice is placed in a very large, flat-bottomed pan and boiled.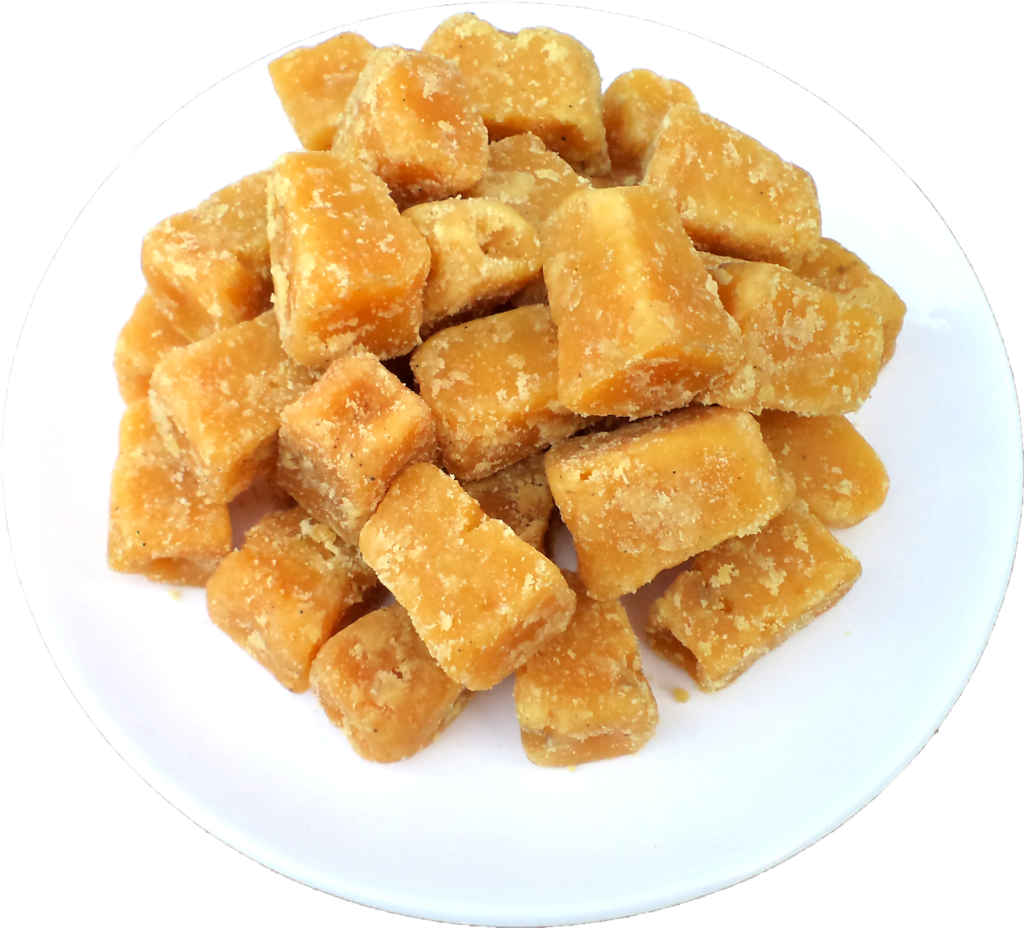 According to one source, 100 grams (half a cup) of jaggery may contain :
Calories: 383.
Sucrose: 65–85 grams.
Fructose and glucose: 10–15 grams.
Protein: 0.4 grams.
Fat: 0.1 grams.
Iron: 11 mg, or 61% of the RDI.
Magnesium: 70-90 mg, or about 20% of the RDI.
Potassium: 1050 mg, or 30% of the RDI.
Manganese: 0.2–0.5 mg, or 10–20% of the RDI.
Health Benefits of Jaggery:
Prevention of respiratory problems.
Helps with weight loss.
Controls blood pressure.
Great source of energy.
Relieves menstrual pain.
Prevents anemia.
Purifies the body.
Detoxification of the liver.